Voted #1 Best Disc Golf Bag with Cooler 2021 by DiscGolfNow.com!
The weekend party disc golf bag... insulated cooler holds 24-cans and keeps drinks cold.
Highlights
Massive Insulated Cooler - Largest cooler capacity of any disc golf bag on the market. Holds 24-cans and PEVA insert keeps drinks cold for hours.
 Huge Disc Storage - 16 disc capacity top pocket with U-shape zipper for easy access and secures your discs from falling out while on the disc golf course.
 Extremely Comfortable & Durable - Breathable soft back padding, reinforced shoulder straps that include an adjustable sternum strap for even weight distribution, and a custom bottom with rubber studs to ensure your bag stays upright.
Storage & Drink Pockets - Carry everything you need with a large front pocket for your keys, wallet, and phone, a side sleeve for disc golf scorecards or minis, and a drawstring-enclosed water bottle holder.
Unmatched Features & Accessories - We've included a bottle opener, extra strength top rubber handle and a hook to clip your favorite disc golf towel on every bag.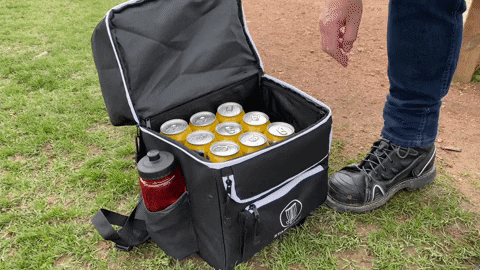 Description
The Star Frame BRICK is durable, incredibly well insulated, and lightweight. The adjustable sternum straps and breathable soft back padding make it a breeze to carry 16 discs and 24 ice-cold beverages.
The top compartment sports a traditional disc golf bag design that can hold up to 16 discs without the fear of them falling out.
The bottom compartment offers a LARGE capacity cooler with enough room to keep 24 cans or bottles ice cold thanks to the PEVA liner insulation.
The strong padded rubber carrying handle and quality-stitched shoulder straps ensure your bag stays strong. The bottom of the bag has been equipped with a durable rubber bottom with four plastic spikes.
This one-of-a-kind backpack can withstand any weather conditions you throw at it. at the park, the beach, on a trail walk, or on a road trip.
If you take the game seriously or just looking to have a few cold ones throughout the course, this bag is for you!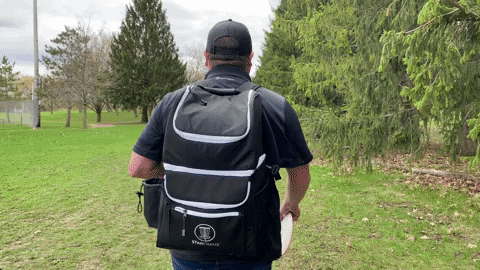 Specifications

Size: 19.7 in x 12.6 in x 8.9 in

Weight: 2.5 lbs
Exterior Materials: Polyester (600 Denier Polyester is coated with PVC on one side to make it water repellent and durable)

Interior Materials: Insulated with Polyethylene Vinyl acetate (PEVA) to help prevent any liquid leakage. PEVA can be found in shower curtains.
Shipping: Orders shipped in 1-2 business days
Money-back Guarantee: If you're not happy with your purchase, return within 30-days for a full refund. Some restrictions apply.
Learn More
Unboxing & Review
Interested to see the BRICK disc golf bag up close and personal? Check out this unboxing and quick review by our friend Doth Savek. Doth analyzes discs and disc golf bags on his YouTube channel.
Watch Now
Bag Review: The #1 Cooler Bag
"After a pretty thorough review, it's pretty safe to say that this is the best cooler bag on the market and will definitely make a great purchase for your rounds." Check out the full review by Red at DiscGolfNow.com.
Read Full Review
Reviews